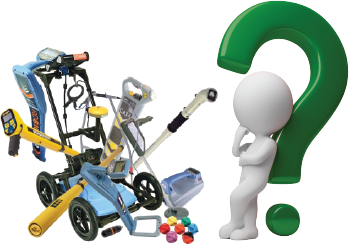 Need help with your Locator Selection?

Multiple Configurations Available
This product is configured specifically to suit your needs.
Request Configuration Assistance
Contact us to discuss your requirements
EXCLUSIVE Australian Industry BEST PRICING available.
Radiodetection's new ranges of precision cable, pipe and radio frequency marker locators build on the high-performance and advanced features of the existing RD7100 and RD8100 platforms. They add the ability to detect RF utility markers, also known as EMS or Omnimarkers.
The new RF marker locator ranges deliver surveys with a combination of speed, accuracy and convenience unmatched by any others' solutions:
All the RF locators offer both an automatic marker depth measurement system, which eliminates the need for a 2 step manual process, and also a combined utility- and marker-locating mode.
Creating and sharing detailed maps, with utilities marked using APWA color coding, is a simple task thanks to internal or external GPS options and Bluetooth connectivity to the new RD Map™ app for Android devices*. Using RD Map, operators can easily create maps in real-time*. At the end of a survey, maps can be easily shared from the app using e-mail or any other compatible messaging system.
Requires Android 5.1 or higher, data connectivity and Google Maps. Maps can be exported as CSV or KML files.
The optional internal GPS feature of the RD8100 range allows locate professionals to add positional data to survey measurements without the need to carry any additional equipment. Detailed maps can then be created at a later time, using RD Map or RD Manager (using a USB connection).
The new ranges of locators offer a number of features to easily identify target utilities and to track them with confidence:
Guidance Mode:
Displays directional information alongside depth and current information to help both find the utility and ensure the correct target is being traced.
Peak+ Mode:
Combines the accuracy of Peak locating with the rapid ground coverage of Guidance Mode. A single key press lets you check for distortion by comparing Null with Peak.
Power Filters™:
Power industry models, (PLM and RD8100 models) exploit the harmonic properties of power signals to identify the presence of multiple cables and distinguish between them.
Customized Frequencies:
Up to five additional frequencies can be programmed by the user to customise the RD8100 models to specific networks.
4 kHz locating with Current Direction,
(CD): Enables mid-range tracing of high impedance lines such as twisted pair telecom lines or street lighting power cables (PDLM and PTLM models). Used in conjunction with CD, operators can be sure they are staying on the correct utility.
(Radiodetection-RD7100M)
Light weight - at only 4.2lbs / 1.9kg or 5lbs / 2.3Kg, for marker models the RD7100M range is comfortable to use for extended periods.
IP54 protection rating - can operate in almost any environment
High contrast backlit LCD screens on both transmitter and locator allow use in any light conditions.
Dynamic Overload Protection extends the RD7100M's locate capability into areas where other products fail
Automatically filters out large and unwanted signals while ensuring accurate location of the target pipe or cable
Particularly useful in electrically noisy environments such as power sub stations or near overhead high-voltage cables.
PLM and TLM models feature integral logging systems. It records up to 1 year typical usage of significant locate parameters every second and helps identifying training and development needs, and provides independent historical records of the instrument's use. Backed-up data on a PC gives virtually unlimited record keeping for the life of the product.
| | |
| --- | --- |
| SKU | Radiodetection-RD7100M |
| Model # | RD7100M |
| Brand | Radiodetection |
3 Years Return to Base Warranty
0
---
You May Also Like
---
More From This Category